THE SOUL SURFING FOR
Our art director Lucy Pinto heads to sunny Sri Lanka to ride the waves and chill with yoga.
'Beep, beep.' We've Just stepped out of the airport in Colombo, Sri Lanka's capital city, andare hit with an exciting mix of sounds, heat, colours, smells and beauty that feel a world away from our daily lives in the UK. Our taxi driver explains that beeping your horn in Sri Lanka also means 'Hello, how are you?', which is why the noise is constant! He starts to talk about the weather and, as if on cue, the heavens open. 'Welcome to monsoon season,' he proudly announces with a friendly little giggle. With our wipers going as fast as they can, we see tuk-tuks pull over to pull down their covers – it's all go out there.Luckily for us, monsoon season coming to an end so we only experience a few minutes of downpour, but we see that when it rains, it pours. The air's very humid and we quickly take off our London layers.
Where to surf in Sri Lanka Photo Gallery
Thankfully, we're soon heading out of the city and towards Ahangama, near Galle And the south coast, where we're to stay at Soul & Surf, a peaceful, laid-back surf and yoga retreat just inland from the beaches.The moment we turn into the jungle, the sounds switch from tooting horns to monkey calls and we see palm trees gently swaying in the warm breeze while locals stroll along the track. Greeted with a warm welcome and a lovely, cold drink, we're given a quick tour before being shown to our room. Soul & Surf is a 12-bedroom,all-inclusive hotel with stunning bedrooms and a great pool, plus lovely, helpful staff.Our faces beam when we see that the weekly schedule includes surfing twice a day – yes! All activities are optional,though, and depend on which package you've booked – it could be seven days of surfing or yoga, or a mix of both. We'd Signed up for both. Surf & Soul also hassan in-house therapist who offers excellent treatments from reiki to massages.A soft voice announces dinner is ready and we head across to the outdoor dining area, where the guests all sit together on long tables. It's a lovely, informal way to meet people and chat. All meals are cooked fresh onsite, and are an abundance of colour and fragrance – think seafood and incredible tropical fruit and veg. Wemeet the staff, who then join us for dinner.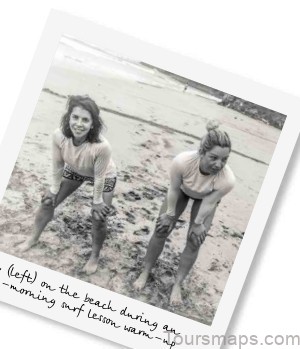 MORNING CALL
Setting your alarm while on holiday may not sound very restful, but it's worth it to hit the surf at sunrise. We jump out of bed, flingon our swim gear and head for reception.Greeted with a fresh smoothie and fruit, we eagerly await instructions for the morning and chat to the other early risers. A tuk-tuk takes us to the nearest beach – a five-minute drive away and we chat excitedly about what to expect.Pulling up at the beach, we're handed aboard each and walk down to the water's edge. The smell of salt fills our nostrils,and we feel a nervous excitement. Four Instructors take us through drills, safety and a bit of team building before we head into the water. The waves are clean and warm, no 5mm wetsuit is required, that's for sure! After some refresher tips, my partner and I head out back to try to catch some bigger waves. By now the sun is fully up and there isn't a cloud in the perfect turquoise sky. Two hours fly by and, when the instructors shout 'one morewave', we paddle out, trying to get one last hit of adrenaline.Back at the retreat, the breakfast table island and we rush to our seats like hungry school children, filling our bellies with eggs,and fresh fruit. Yoga is on the schedule for the afternoon, so we have plenty of time to shower, relax, enjoy some lunch atour leisure and just soak up the calm surroundings.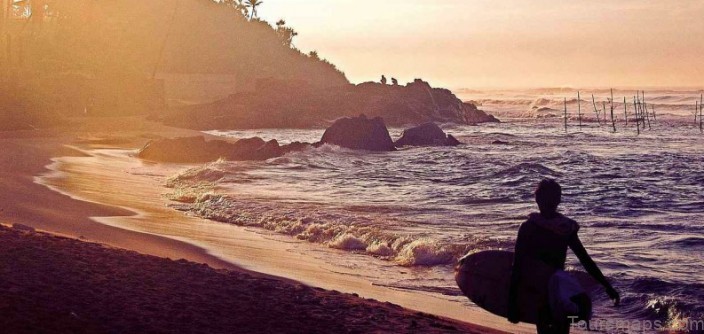 'Surfing and yoga are a perfect pairing,' explains Simon, one of the surf instructors. Helping to draw breath,boost flexibility and enforce calm while out in the water, it's a great skill to master, sowe look forward to the daily practice.Yoga and meditation classes are set in the open-air studio above the reception area, with views of the jungle. Jess, our yoga teacher, has a beautiful presence,making everyone feel at ease as she delivers a wonderful Vinyasa flow class.Throughout the week, we get the opportunity to take part in flow yoga, yin yoga and meditation. Every session hits the spot. Other activities on offer are cooking classes, SUP, whale watching and trips into Galle, a historic colonial fort town, 25 minutes away.We surf every morning, heading to two different beaches where the surf is clean and steady. Sri Lanka is a great place to take your first steps into the world of surfing. The calm whitewater puts you at ease while the water temperature is a true luxury. Out back, the surf can be slightly more treacherous withreef breaks and rip tides but,as long as you know what you're doing and are confident in the water, this is a lovely place to enjoy the beauty of great surf.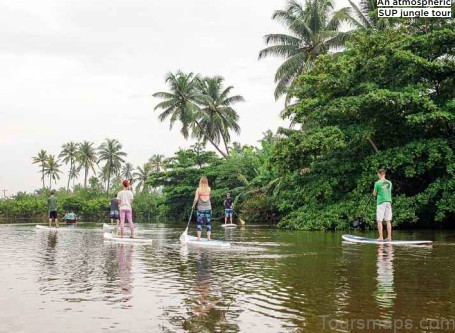 SUNRISE SUP
The retreat is set on the edge of a river,so we leap out of bed early again one day for a relaxed paddle session around the area on SUPs (stand-up paddle boards).We're guided along by Reyansh, a local who lives on the river with his family. The Gentle sound of paddles in the water and the occasional child's voice ringing out as they play is all you can hear. We pass wooden huts that have been beautifully crafted into homes and bridges where the locals wave and smile from cheek to cheek – we've never experienced such a friendly nation.On the last night, the staff put on a video of the week's adventures and photos. So Much has happened in a week, and the room fills with laughter and positive energy.We've made a tight bond with the group and exchange email addresses, wishing everyone many more happy adventures.
FACT FILE
●A week's retreat at Soul & Surf Sri Lanka is priced from £820 per person and includes full-board accommodation and all activities throughout the week – yoga and surfing, or just surfing or yoga – but excludes flights and transfers.For more information and tobook, go to soul and surf.com.
●Soul & Surf also has a retreatin Kerala, India. To find out more,see the website.
Maybe You Like Them Too