Tall Ships: Real tall-masted sailing ships how cool is that?
Unusual Itineraries: Because of their size, these ships can get into small ports, and the line takes advantage of that well.
Heavily Impacted by Weather: Itineraries can change quickly if the weather shifts, and heavy swells are felt more on these ships than on larger ones.
Europe-centric: North American guests will find themselves the minority on these cruises, which draw heavily on European passengers even in the Caribbean.
Overview
These sleek clipper ships have all the amenities of the sailing yacht experience, but with tall masts, white sails, and the best seat in the house the hammocklike bowsprit net you can climb into. Inside, a somewhat heavy-handed design evokes the Grand Age of sailing, with lots of dark wood paneling and red accents. There's also a traditional piano bar and an Edwardian-style library.
EXPERIENCE
Unlike other sailing vessels that use their sails just for show, these tall ships are real sailboats, and the billowing beauts that top them are actually raised to propel the ship. While there is a set plan for each sailing, arrival and departure times depend on the wind, and the plan can change as the weather shifts.
ROUTES
These ships focus on four destinations: the Caribbean, the Panama Canal, Costa Rica, and the Mediterranean. They offer many different route choices in those areas, including itineraries that specialize in part of a region, such as Spain, North Africa, or the British Virgin Islands.
PASSENGERS
Passengers range widely in age, but lean heavily toward the empty nesters and retirees. They are generally a mix of North Americans and Europeans (primarily Brits and Germans), and there can be a wide range of languages spoken on board. That's either a positive or a negative, depending on your perspective.
DINING
The ship's dress code is country club casual, and that sets the tone on board. During the day, breakfast and lunch are buffet style and, in these warm climates, most guests wear shorts. At night, you'll see lots of sundresses and polo shirts, and dinner is the main event.
ACTIVITIES
Onboard activities take full advantage of the ship. You can climb the masts, learn to tie knots, join the captain on the bridge, relax in the hammocklike bowsprit net, or just admire the scenery from one of
The small pools. There's also a watersports program that guests can enjoy when the stern marina is deployed. That appendage allows guests to enter the water easily to kayak, sail, or snorkel off the side of the ship.
CHILDREN'S PROGRAMS
Children are allowed, but there are no facilities or programs catering specifically to their needs. ENTERTAINMENT
After dinner, guests might listen to a steel-pan band on deck, or toast in the warm summer air with cocktails or at one of the bars.
SERVICE
Service is friendly and casual, which feels appropriate on these ships.
FLEET
The fleet is made up of three ships: the 170-passenger Star Flyer and Star Clipper and the larger 227-passenger Royal Clipper. A new ship, which the company says will be the largest square-rigged sailing ship in the world, is under construction.
Royal Clipper
This fully rigged, five-masted square sailing clipper turns heads wherever she goes, and her interior amenities from marble bathrooms to an Edwardian dining room are among the line's most stunning.
THE SHIP IN GENERAL
At 439 feet in length, Royal Clipper holds the Guinness World Record for the largest square-rigged sailing ship in service, with 56,000 square feet of sails to catch the trade winds of the Caribbean and the Mediterranean. With a total of 42 sails, Royal Clipper uses wind power alone whenever possible to propel her to ports of call, but the ship is also equipped with traditional diesel propulsion engines in case Mother Nature refuses to cooperate.
Built in 2000, the ship recalls the grandeur of a different time. She can hold 227 guests when fully booked, along with a crew of 106. Star Clippers plays up her seagoing elegance to the hilt, pumping the Vangelis-composed theme from Conquest of Paradise over the ship's loudspeakers as the sails are hoisted. When conditions allow in certain ports of call, guests are invited to board the ship's tender boats for awe-inspiring exterior views of the mother ship as Royal Clipper sets sail. The miles of lines (that's ropes to you and me), old-school ventilation cowlings, brass fittings, polished Woods, and ornate glass skylights and windows brings the glory days of sailing back in a way that's wonderfully different from modern mainstream cruise ships. The same holds true for the creaking, rolling, and pitching. Bottom line: This ship is a real winner for those looking for a truly unique, old-timey experience.
Cabins Royal Clippers cabins have wood paneling, dark fabrics, and marble-clad bathrooms in most stateroom categories. With the exception of six interior staterooms, every cabin on board offers ocean views, and most are sized at a comfortable 148 square feet. Rooms are cleverly designed, with a vanity and desk area, accent lighting, twin or queen beds, and a closet. In keeping with the laid-back ambiance on board, there's no need to fill that closet with formal wear. Bathrooms are surprisingly spacious (with a full-size shower and storage hidden behind the mirror) and, with the exception of the six inside staterooms, heavy on the marble. The lip of the shower, however, stands about an inch or two off the floor, and isn't enough to keep water from sloshing out when the ship is pitching.
Select staterooms on Main and Clipper decks have the capacity for a third person, but unfortunately this spare bunk is located directly above the main bed. Even when folded, it sticks out enough so that it's easy to bump your head. If you like your cabins generously sized, a total of 14 deluxe suites (complete with private balconies) feature whirlpool bathtubs and minibars. The two largest suites wrap around the stern of the ship, but those prone to seasickness might want to avoid them we noticed the most rolling near the stern on our visit.
Public areas & activities You'd never suspect it from the outside, but the Royal Clipper boasts a three-story atrium extending from the main dining room to the main lounge, with a skylight that also functions as the floor of the midships swimming pool. That connection with the sea and water is present throughout; the fitness center, located below the waterline, even has porthole windows allowing guests to watch the waves while they work out. The piano bar, situated on the Main Deck, offers seating in an old-world setting of brass, dark polished woods, and window-lined nooks. A spiral staircase allows access to lower levels, and the outdoor Tropical Bar, which serves as the social hub of the ship, particularly in the warmth of the Caribbean.
A small but inviting library is situated in a deckhouse behind the Tropical Bar. It's stocked with maps and books in a variety of languages. All the way forward on Main Deck is an Observation Lounge that, like the library, is located in its own deckhouse. Sadly, the room is darkened and unused most of the time, though you will find a few Internet stations here (the rest of the ship has Wi-Fi access for purchase). For a ship of this size, the pool, fitness club, and spa offerings are a pleasant surprise. Royal Clipper has a total of three swimming pools (including the aforementioned one over the piano bar), along with a nicely sized fitness center and spa, both situated below the waterline.
Dining Meals are taken in the eye-catching main dining room, which proffers a number of table sizes spread across three separate levels of Edwardian grandeur. Breakfast and lunch are buffets, while dinners are plated and chosen from a surprisingly extensive menu. The quality is excellent, especially the soups. Portholes inset into the walls are a nice touch don't be surprised if the sea washes over them during inclement weather.
Star Clipper – Star Flyer
Featuring the sails and graceful lines of a classic clipper but all the amenities of a modern cruise ship, this pair of 170-guest gems
At 360 feet in length, Star Clipper and Star Flyer are smaller, more intimate versions of Royal Clipper. They sport a sleek all-white hull topped with 16 sails and four masts towering 226 feet in the air. As you might expect, this is a ship that encourages guests to be out and about on deck, taking in the action as the sails are hoisted or dropped.
Cabins Staterooms aboard both ships are small, with six inside staterooms measuring a miniscule 97 square feet. The ship's outside staterooms, which come in at between 118 and 130 square feet, are significantly less claustrophobic and in fact, are quite inviting, thanks to porthole windows, wood and brass accents, and navy blues at every turn. All rooms have closets and drawers for storage and twin beds that can convert to a double. Both ships feature a single Owner's Suite that can be very difficult to book at certain times of the year so it's best not to get your hopes up.
Public areas & activities Most guests congregate around the social hub that is the Tropical Bar, which is situated out on deck and covered with an awning that keeps guests reasonably dry in inclement weather. The piano bar, just forward, is a quiet spot well-suited to lazy afternoons. A library is situated in a separate deckhouse aft of the Tropical Bar. Each ship sports two swimming pools, with the midships one offering porthole windows that look down into the piano bar and vice versa. While there isn't an onboard fitness center as such, fitness classes like yoga are held out on deck.
Dining The only area where crowding becomes an issue is the main dining room, mostly because all guests are served at a single sitting. Though the room is snug but its charms, recalling the glory days of transatlantic travel in its looks. Meals are open seating, but only tables of six or eight are available, which can be bad news when there are only single seats left and you're part of a couple. The food quality is solid, with dishes that appeal to the predominantly European passengers (like tasty pastas, seafood, and rich desserts).
STAR CLIPPERS CRUISES TRAVEL GUIDE Photo Gallery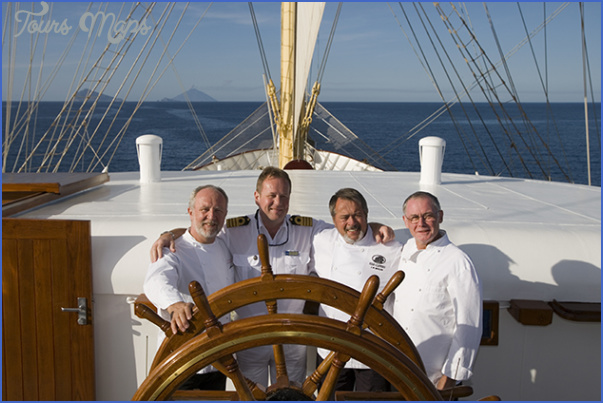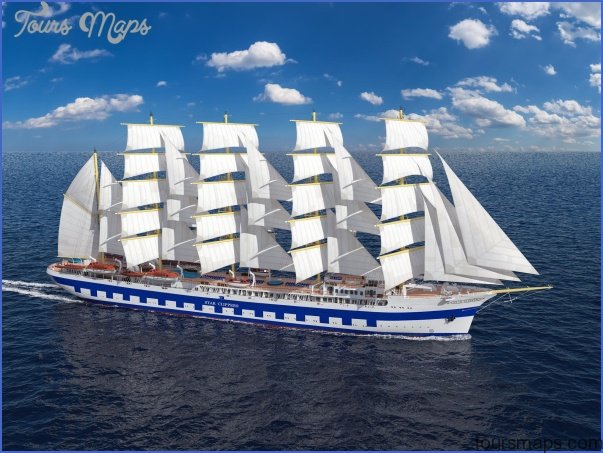 Maybe You Like Them Too