How Real Couples
An Italian extravaganza Alexandra Edwards, 28, married
We wanted our wedding to last. It all kicked off with our legal ceremony in London, then the reception took place at Castello Di Racconigi in Cuneo, Italy. Finally, we hosted a huge brunch at my husband's family home, also in Italy.
The Top 10 Things I Learned from Our Wedding Day Photo Gallery
For the reception, we held an Italian feast. We served canapes before moving on to the region's traditional dish of ravioli del plin (a meat-filled fresh pasta), followed by herb-crusted beef, then a mille-feuille (vanilla pastry) to finish! We chose classic Ca' Del Bosco instead of Champagne.
We had a single table for 200 people, which I loved because everyone could sit together in the style of a banquet. We had bespoke menus by Susannah Garrod, and handed out fans that she'd illustrated with our favourite things, ie shoes and bags!
Many of our suppliers were Italian. We really wanted to keep everything local. Of course, it helped that Carlo speaks Italian. Our brunch was wholly organised by Carlo's family, and hosted by them in his childhood home. We had pasta and cheese stations, live music and a marching band. My top tip: If your family want to get involved in the planning process, let them. I loved hosting the final day's event at my in-laws'. And his parents were over the moon to be able to plan that day for us.
3 Fairytalefestivities on a Cumbrian farm
A romantic surpri
THE BRIDE Day 1: dress, esmevie.com; shoes, manoloblahnik.com; headband, miumiu.com; earrings, Alexandra's mother's. Day 2: gown and bespoke veil to match, naeemkhan.com; 'Lucy' shoes, jimmychoo.com; earrings, sjphillips.com. Day 3: dress, georgeshobeika.com
THE GROOM Bespoke suit, huntsmansavilerow.com
THE BRIDESMAIDS Bespoke dresses, thandth.com
THE VENUE Reception: polomusea lepiemonte.beniculturali.it. Brunch: marquee, daturiemotta.it
THE ENTERTAINMENT
THE DECOR
Reception: floral plates, versace.com; all other tableware, daturiemotta.it. Illustrated menus and fans, susannahgarrod.tumblr.com (printed by ggprint.co.uk). Brunch: tables, chairs, tableware and linen, daturiemotta it.
THE CATERING
Canapes, four-courses and giant mille-feuille, daturiemotta it
THE FLOWERS
All floral arrangements, candles and crystal candelabras (excluding church candlesticks), marcosegantin.com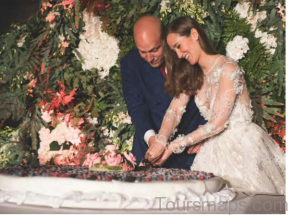 An exceedingly English affair Olivia Palmer, 25, married Alex Davidson, 26, at her family's Hertfordshire home on 27th May 2017. She says:
The first thing we decided on was getting married at home. The second was that we'd have a glass marquee – it was the piece de resistance of our wedding day decor. We had three days' worth of events.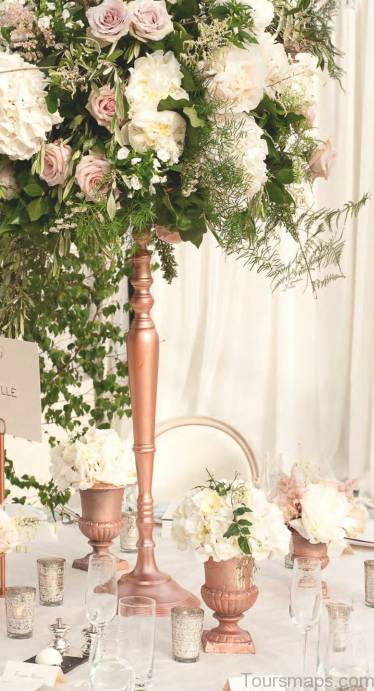 On Friday, we had an intimate dinner with informal sharing platters. Saturday, the day of our ceremony, was a quintessentially English affair (filled with peonies!). And Sunday had a more relaxed feel with lots of food stalls, including Indian and barbecue. The biggest extravagance? Redecorating the marquee for Sunday's celebrations. Not only did we turf it, we also added totally new floral arrangements. Guests said it looked like something out of The Great Gatsby!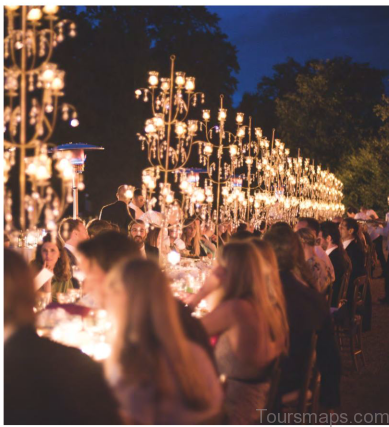 Despite the weekend's huge production value, we didn't hire a planner. Having worked in entertainment, I was able to use my own experience to bring it all together. We were also lucky enough to have our dear friends from Lavender Green Flowers on hand. We genuinely couldn't have done any of it without them. From the intimate, Mediterranean-inspired setting on Friday, to the next two days of monumental marquee arrangements, it was magnificent.

My Phillipa Lepley dress was an easy choice. She is the queen of couture. It was full-skirted and corseted with organza. The most memorable part of the day was the church service. Alex looked so relaxed waiting for me at the end of the aisle, it really put me at ease. The fireworks on Saturday evening were pretty special, too.
My top tip: Make sure you get on with your suppliers. It really helps your entire wedding experience to enjoy all of your meetings and appointments in the lead up to the big day.
Maybe You Like Them Too