And Dormy House, nestled deep in the Cotswolds countryside, does farmhouse chic like nowhere else. Assuring you it will be 'a bit like home, but better', it goes on to seriously over-deliver on that promise. The unassuming entrance gives little hint of what delights lie inside. Choose from three drawing rooms to kick back in. The Blue Lounge is our favourite, with its bay window and elegant high-back chairs, but all are beautifully styled with sink-into sofas, roaring fires, fresh flowers, dry¬stone walls and the kind of chilled atmosphere where no one minds if you put your feet up. There are crates of board games to play and you'll be actively encouraged to order something decadent and let the hours slip away.
Coworth Park – Ascot – 5-Star Luxury Hotel Photo Gallery
When it's time to eat, Dormy House is big on comfort food (an extra order of its fat homemade sausage rolls just had to come home with us). But it can do sophisticated, too. We loved the 'pie-and-a-pint' Potting Shed for its simple seasonal menu, but if you want to take it up a level, dine at the refined Garden Room, where the emphasis is on locally sourced, quality ingredients. Here, you'll also enjoy views over the charming enclosed garden where signs encourage you to walk on the grass.
While you could work all this off in the gym or pool, we preferred to loll around in the outdoor hot tub, kidding ourselves we were being very healthy. Bedtime is the best here and you'll want an early night to make the most of that king-size super-soft bed. There are 10 suites to choose from. The Den is cosy but compact, so if you want to spread out and really feel at home, take it up a notch at The Loft with its tin roll-top bath, or book one of the Courtyard Hot-Tub suites. No matter, really, as you're bound to be back to try the others as soon as you can.

GO: From £240per night, B&B, based on two sharing; dormyhouse.co.uk
Travel Gleneagles Perthshire, Scotland Coworth Park Ascot, Berkshire
THERE'S A HUGE TREND FOR LUXURY 'FARMHOUSE' HOTELS IN THE UK
With all the teepees and vintage bicycles your Instagram can cope with. But if you want something more refined, yet still deep in the countryside, head to Coworth Park. Operated by the same company behind London's Dorchester and the Hotel Plaza Athenee in Paris, this country retreat is as sleek as its city sisters. There are 70 immaculate rooms in the main mansion, plus a private three-bed house, stables and cottages decorated in contemporary styles, with tranquil colours and roll-top baths. The restaurant and bar feel penthouse-cool, and although The Barn brasserie is more relaxed, it's still smart (think posh fish and chips, the latter arriving in a silver goblet). There's a beautiful equestrian theme running through Coworth, from the art on the walls to the magnificent polo fields and stables (a horse-lover's dream). Another highlight is the Spa, with a colour-changing pool, aromatic steam room and exquisite treatments with brands such as Kerstin Florian and Aromatherapy Associates. Welcome to the high life, country edition.
GO: Rates start from £332 per night, B&B, in a Stable Superior room; dorchestercollection.com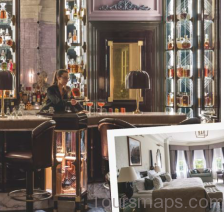 AFTER THE MOST ANTICIPATED REFURB OF THE CENTURY
Gleneagles' hotel estate has at last re-opened, with a level of luxe that makes us wonder: why bother with long haul? In the 232 bedrooms, a palette of greys, pinks and blues offsets huge beds and elegant bathrooms. Downstairs, it's a fusion of indulgences, including a lavish tea parlour, a glittering '20s bar and buzzy brasserie, a two-Michelin-starred restaurant, a whisky and cigar bar, and a garden cafe. It's so impressive, you could spend a week here: there are golf courses, stables, tennis courts, plus archery, falconry and off-road driving. There's also a refreshing non-focus on families, which means you won't have a soundtrack of soft-play screaming. As for the ESPA Spa, where to begin? It's the size of a regular hotel, with all the ice rooms, heat rooms and vitality pools imaginable, plus a menu of treatments, nutritionists and alternative medicine. Yet for all the grandeur, it's spacious, peaceful, and private, and mischievously electric when you feel that evening thrill coming on. The mini-moon dream.

GO: From £265 per night, B&B, based on two sharing; gleneagles.com 
Claridge's
Mayfair, London
THERE WAS NO COMPETITION WHEN IT CAME TO CHOOSING THE FINEST HOTEL IN THE CAPITAL:
Claridge's is the perfect balance of heritage and superior cool. Designed in the '20s, this icon of luxury still retains many of its original features, and has been restored over recent years by some of the best modern architects with a passion for Art Deco to capture the decadent vibe. The Fumoir bar, for instance, is akin to stepping into a claret velvet jewellery box, where skilled bartenders will take you back in time, mixing all manner of forgotten vintage cocktails. There is an indescribable magic in the air here, as if you and your partner are the only two guests in this utopian, clandestine corner. Then suddenly the time machine shifts a gear, leading you to a futuristic food experience in the main restaurant: Fera At Claridge's, which serves up a culinary roller coaster inspired by the seasons and nature. The bedrooms are equally delicious: calm and elegant, with marble bathrooms where style legends from Audrey Hepburn to Victoria Beckham have prepped for the biggest events in town. This intensely romantic, friendly hotel is a wonderful bolt-hole if you want privacy and sophistication with sparks of fun.
GO: Rates start at £425per night, B&B, based on two people sharing; claridges.co.uk
Lime Wood New Forest, Hampshire
IT'S THE GIANT WOODEN SWING AT THE SIDE OF THE FRONT LAWN THAT GETS OUR 'IT'S-THE-LITTLE-THINGS' VOTE HERE
Flinging yourselves back and forth, with views over a wildflower meadow, encapsulates the child-like fun and wonder you'll experience at Lime Wood. Follow paths through the undergrowth; perhaps you'll come across the lake, or the bridge that leads to a tiny island, all the while looking out for wild ponies or herds of deer. You'll be giddy with joy the first time you enter your Forest Hideaway Suite (our recommended room to book): designed over two floors, these have their own living room, dining area, terrace or balcony, larder full of snacks… and a stand-alone bath against a huge bay window, with leaves tickling the glass for a lovely treehouse effect. Food is high on the agenda here, with the main restaurant helmed by Angela Hartnett and Luke Holder – and for a place overseen by two chefs with Michelin-starred credentials, the food is surprisingly down to earth: think Italian stews, hulking sharing platters and tiramisu. But before dinner, you'll want to hit the Herb House Spa (it's one of the best in the country and a celeb hotspot) and have cocktails in the glass-domed courtyard bar. Picturesque grounds, a spa par excellence and some seriously good food and drink – what's not to love? GO: Rates from £330per night, on a room only basis; limewoodhotel.co.uk
Maybe You Like Them Too