Likuliku Lagoon Resort
Tere's nothing rough around the edges here. If you dream of staying in an overwater bungalow, this is your place. Te frst of their kind in Fiji, they're total showstoppers. Having said that, once you set eyes on the deluxe beachfront bures with private plunge pools, you might have other ideas.
Likuliku Lagoon Resort Photo Gallery
Te superb restaurant is ablaze with culinary delights – expect an entire fresh school of fsh on the menu – and serves up food ft for a king. Likuliku's latest addition is a pretty little man-made island at the end of the jetty, complete with a lively bar and timetabled Fijian nights hosted by staf – expect traditional dancing and punchy local cocktails.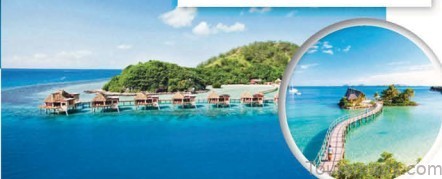 Turquoise Top Tip Getting around
The outer islands are all easily accessible from the main island of Fiji (Viti Levu) by speedboat, helicopter, seaplane or light aircraft – getting around is all part of the fun. And for added honeymoon bliss, jump aboard your own private yacht to explore!
Maybe You Like Them Too