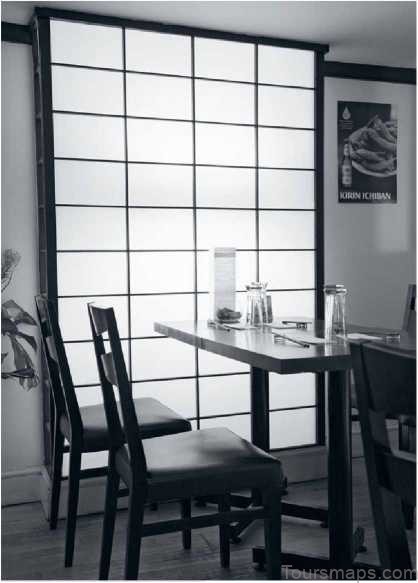 Hazuki
43 Chandos Place, WC2N 4HS ® 020 7240 2530
www, hazukilondon, co. uk
Open lunch Monday-Friday 12-2.30pm, Saturday and Sunday 12.30-3pm; dinner Monday 6-10.30pm,
Tuesday-Saturday 510.30pm, Sunday 5-9.30pm. Open during Easter and on New Year's Day
Tube Charing Cross, Leicester Square Bus 24, 29, 176
There is a 6cm step at the entrance and the toilets are down a flight of stairs
This small Japanese restaurant has been serving typical Eastern delicacies for many years. Their fish is freshly prepared by experienced sushi chefs who make sashimi platters for lovers of seafood. Also recommended are their set menus, where you can choose from assorted tempura, black cod miso, deep-fried oysters and delicious Teriyaki dishes. A la carte dishes include natto (fermented soybean) and grilled feel on rice. Finish your meal with a sweet sesame ice cream, and a few cups of gently warmed sake.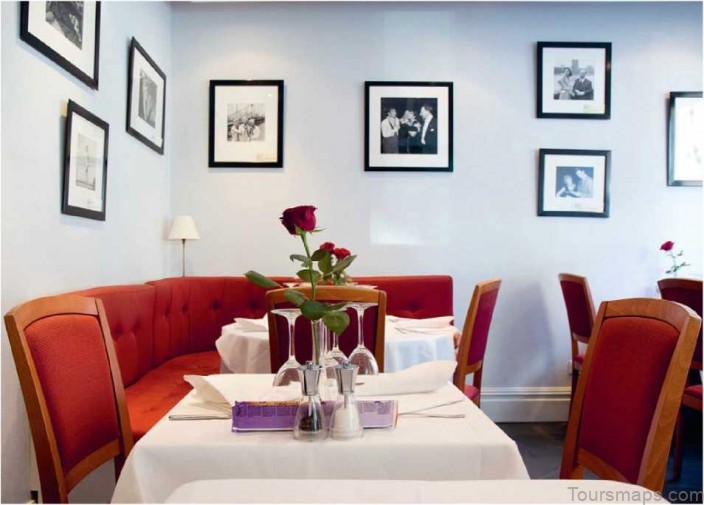 Como Lario
18-22 Holbein Place, SW1W 8NL ® 020 7730 2954
www.comolario.co.uk
Open Monday-Saturday 12.15-2.45pm, 6.30-11.30pm, Sunday
6.30-1 Opm, closed Bank Holidays
Tube Sloane Square Bus 11, 137, 170, 211, 360, 452
There is a 4cm step at the entrance and the toilets are down a flight of stairs
With its white linen tablecloths and fresh flowers in china vases, this is a very civilised place to have lunch or dinner. The black-and-white photos on the wall of famous actors such as Marlene Dietrich and Marilyn Monroe are in keeping with the sophisticated yet laid-back atmosphere. Como Lario serves mainly Northern Italian dishes, and on the menu you might find carpaccio di salmone al limetta or linguine
sauteed with prawns, courgettes and saffron. Since 1969 they have been experimenting with the classics, so as well as a mozzarella, cherry tomato and basil salad you might find charcoal-grilled aubergines with Parma ham served with a crusty bruschetta.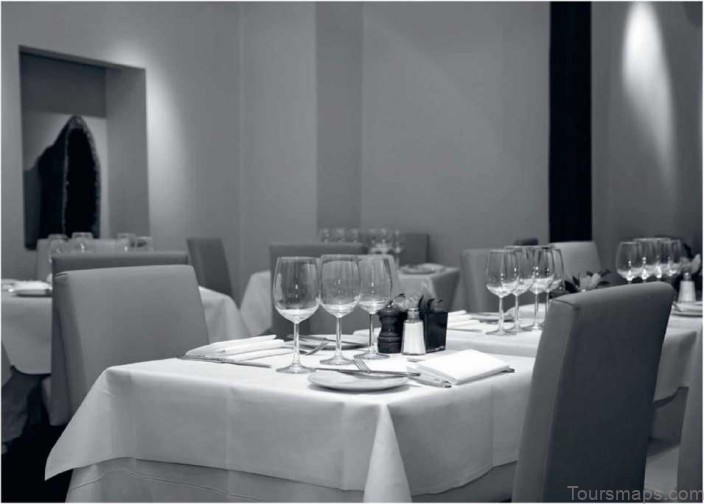 Le Deuxieme
65 Long Acre, WC2E 9JD S 020 7379 0033 www.ledeuxieme.com
Open Monday-Thursday 12-11pm, Friday and Saturday 1211.30pm, Sunday 12-10pm, closed Bank Holidays
Tube Covent Garden Bus 24, 29, RV1
The restaurant is wheelchair accessible except for the toilet
This Covent Garden restaurant is an excellent place to come for a business lunch or a dinner with friends. With its beige leather seating and minimalist interior, the look of the restaurant is simple and understated. There are small white china vases of orchids on each immaculate table and a huge mauve crystal amethyst sits quietly in one corner. Situated close to the Royal Opera House, this stylish restaurant offers a pre-theatre menu and stays open late. The emphasis is on modem European dishes, such as pea and broadbean risotto, with main courses including confit of duck and desserts such as lemon tart. With over 150 wines to choose from on their extensive list, there will always be one to suit your palate.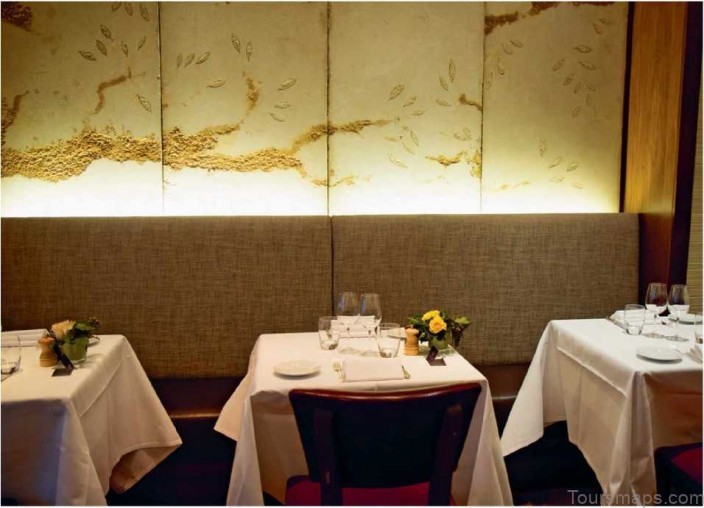 Alloro
19-20 Dover Street, W1S 4LU S 020 7495 4768
www.atozrestautants.com
Open Monday-Friday 12-2.30pm, 6-10.30pm, Saturday 610.30pm, closed Sunday
Tube Green Park Bus 8, 9, 14, 19, 22, 38
The restaurant is wheelchair accessible but the toilets are down a flight of stairs
With its carved stone wall reliefs and soft lighting, this sophisticated restaurant encourages a gentle, respectful demeanour. The Italian dishes prepared by expert chefs are superb and change every month, so there will always be something new and unexpected on the menu. From their buffalo mozzarella with aubergine caviar, taglierini with black truffle and apple mille feuille with cinnamon and honey ice cream, it is hard to resist their culinary temptations. Music is played in the bar but not in the main restaurant, which is both elegant and quiet.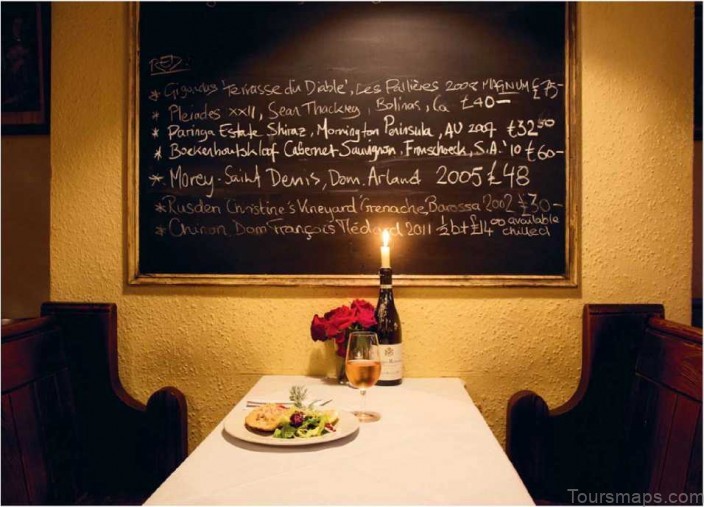 Andrew Edmunds
46 Lexington Street, Soho W1F OLW a 020 7437 5708 www.andrewedmunds.com
Open Monday-Saturday 12-3.30pm (12.30-3.30pm Saturday), 5.30-10.45pm, Sunday 1-4pm, 6-10.30pm but a few light dishes and drinks can be ordered between these times Tube Leicester Square, Piccadilly Bus 14, 19, 38
The ground-floor tables are accessible but the toilets are down a flight of stairs
This is a very amenable, welcoming restaurant where nothing has changed in the last twenty years. Andrew Edmunds has had a print shop next door for three decades and many years ago decided to open a restaurant alongside his thriving business. Diners say, 'Everything's perfect,' from the simple dressed crab to the wild sea bass fillet with poppy seed potato cake, fennel and tomato salad and brown crab dressing. Ask to see their extensive wine list, and sit with a full glass at one of the candlelit tables by the window. It is advisable to book at least a day in advance, as locals know this is a place to treasure.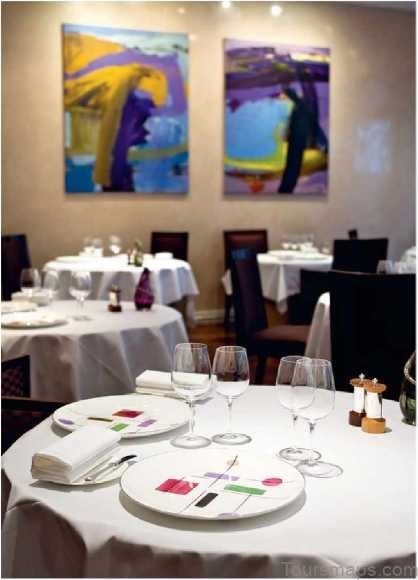 The Square, Mayfair
6-10 Bruton Street, W1J 6PU S 020 7495 7100 www.souarerestaurant.com
Open Monday-Saturday 12-2.45pm, 6.30-10pm, Sunday 6.309.30pm
Tube Green Park, Bond Street Bus 2, 8, 10, 16, 19, 36, 38, 73, 74, 82, 137, 148, 414, 436
The restaurant is fully wheelchair accessible
Located between Green Park and Bond Street, this exclusive Mayfair restaurant is renowned for its fine dining and flawless service. Using seasonal ingredients, owner and chef Philip Howard's inventive menu reflects the huge variety of ingredients which can be sourced throughout the year. A typical lunchtime dish in this Michelin-starred restaurant might be roast quail breast with baked potatoes, roscoff onions, Vacherin Mont d'Or cheese and smoked bacon, followed by caramelised shoulder of suckling pig, sweet and sour orange, creamed potato and Tokyo turnips. Puddings tend to be just as appealing, with a moist rum baba with poached pineapple and chantilly creme tempting even the most resolute. A la carte and tasting menus are available both in the evening and at lunchtime, so for a special occasion it is worth coming here to enjoy some extraordinary cuisine.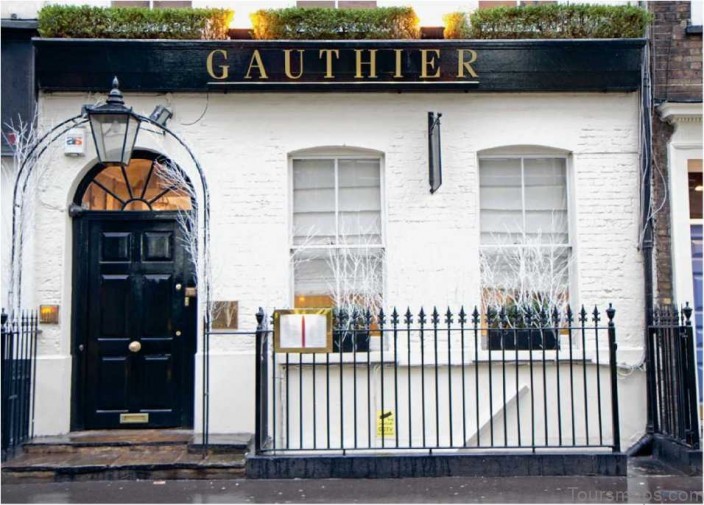 Gauthier Soho
21 Romilly Street, W1D 5AF ® 020 7494 3111
www.qauthiersoho.co.uk
Open Monday 6.30-10.30pm, Tuesday-Saturday 12-2.30pm, 6.3010.30pm, Sunday 12-2.30pm
Tube Leicester Square, Tottenham Court Road Bus 14, 19, 24, 29, 38, 176
There are steps at the entrance and no wheelchair access to the toilets upstairs
As soon as you enter this beautifully proportioned Georgian townhouse, you feel at ease. Diminutive chandeliers hang in the hallway and abstract paintings fill the taupe-hued walls. In the groundfloor dining room, soft grey carpets and ornate carved fireplaces create a calm ambience. Alexis Gauthier's modern French cuisine is quite a draw for Soho diners who adore his outstanding dishes. Book well in advance to try the gout du jour – perhaps black winter truffle with acquarello riso, wild Cornish sea bass with black olive pate and spinach gnocchi – and end the evening with his extraordinary 'Louis XV' nut and chocolate dessert.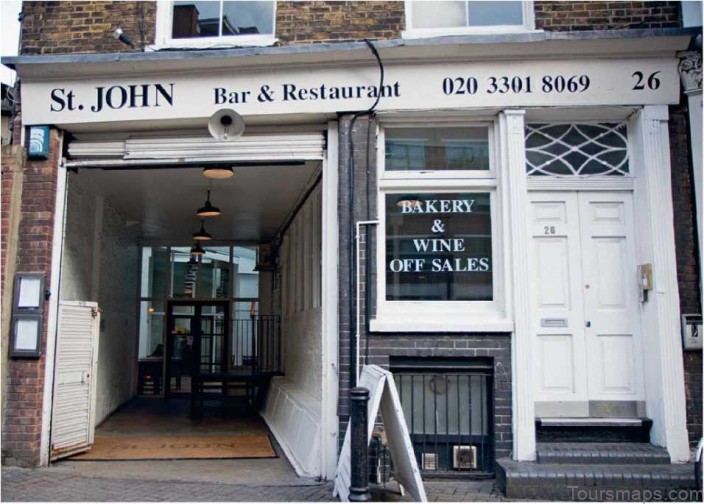 St John
26 St John Street, EC1M 4AY S 020 7251 0848
www.stiohnrestaurant.com
Open Monday-Friday bar 11am-11pm, restaurant 12-3pm, 6-11pm, Saturday bar and restaurant 6-11 pm, Sunday bar 12-5pm, restaurant 1-3pm, closed Bank Holidays
Tube Barbican, Farringdon Bus 17, 45, 46, 55, 63, 243
There is disabled access to the bar and conservatory dining area, but not the first-floor restaurant. The use of mobile phones is not permitted in the dining room.
The high-ceilinged white rooms of this bakery, bar and restaurant used to be a meat smokery for nearby Smithfield Market, and you can still look up into the huge tower where gammon and pork were hung and cured until the late 1960s. As well as having a great bakery,
Selling rye loaves, seed cakes and soda bread, the restaurant serves flavoursome food in season, so the menu changes throughout the year. In the autumn, try their woodcock or grilled ox heart with rape greens and mustard, followed by an apple sorbet with Polish vodka. St John stocks only French wine direct from the producers and their Minervois comes from their own winery. The food is superlative yet the restaurant has a laid-back, relaxed informality which encourages a slow appreciation of the culinary pleasures to be had here.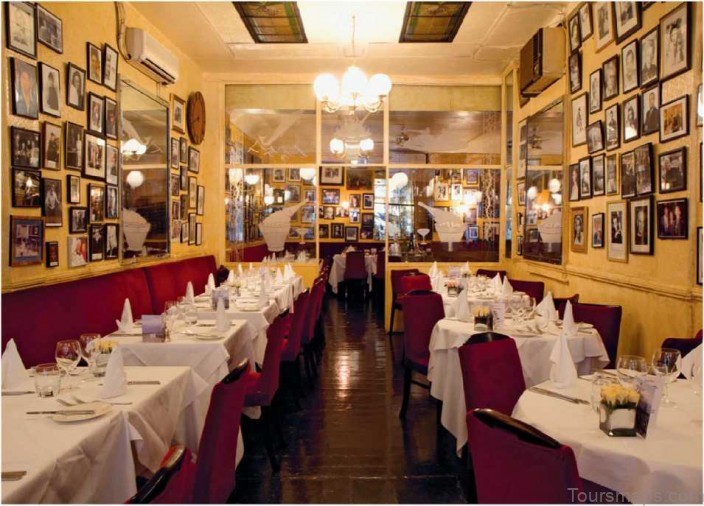 Elena's L'Etoile
30 Charlotte Street, Fitzrovia W1T 2NG S 020 7636 7189 www.elenasletoile.co.uk
Open Monday-Friday 12-2.45pm, 6-10.30pm, Saturday 610.30pm, closed Sunday and Bank Holidays Tube Goodge Street Bus 10, 14, 24, 29, 73, 134, 390
There is a 20cm step at the entrance, making it difficult for wheelchair users to gain access
Having celebrated its centenary around twenty years ago, this comfortable yet glamorous French-style bistro is a great place to enjoy good conversation over a three-course meal. With its red plush chairs, white table linen and large mirrors surrounded by photo portraits of famous actors and celebrities, this is a place to see and be seen. Named after Elena Salvoni, who was maitre d' here until well into her nineties, L'Etoile serves mainly French dishes with a modern twist. A typical soup might be butternut squash with St Maure's goats' cheese, crostini and almond flakes, followed by a main course of roasted lamb rump with aubergine, red peppers and spinach and rosemary jus.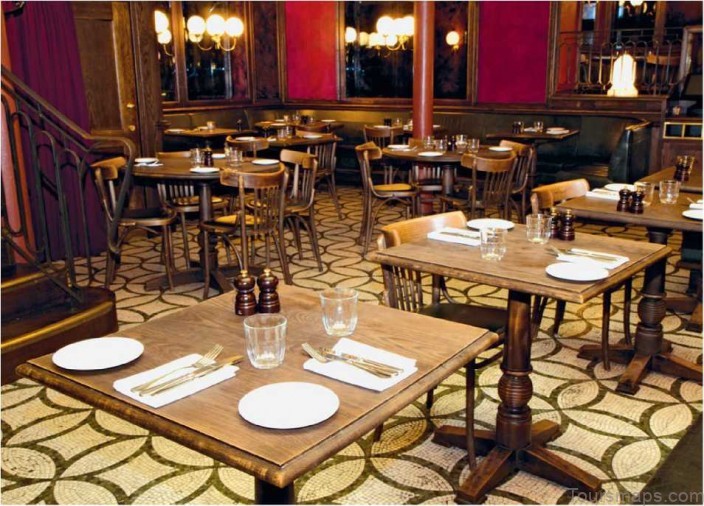 Les Deux Salons
40-42 William IV Street, WC2N 4DD S 020 7420 2050
www.lesdeuxsalons.co.uk
Open Monday-Saturday 12-11pm, Sunday 12-5pm, closed Christmas Day, Boxing Day and New Year's Day
Tube Leicester Square, Charing Cross Bus 23, 24, 29, 139, 176 The restaurant is wheelchair accessible
Start with a champagne cocktail, a divine-tasting drink mixed with elderflower liqueur and fresh lemon juice. Then let the waiter take you to your table in this attractive, highly esteemed restaurant. The dishes here are predominantly French, with fish soup as an entree followed by spring vegetable risotto or pea and mint soup from the menu formule. British ingredients are often used here, too, from grilled Cornish sardines with capers, lemon and chilli oil to slow-cooked.
Welsh lamb. End the evening with a bowl of profiteroles served with warm chocolate sauce or the Madagascan vanilla ice cream – both rich, satisfying dishes from the talented chefs working in this grand London brasserie.
THE 10 BEST Restaurants in London Photo Gallery
Maybe You Like Them Too