BELMOND LA RÉSIDENCE D'ANGKOR SIEM REAP, CAMBODIA
8 HOURS CAMBODIA'S MOST COSMOPOLITAN CITY
Siem Reap is the jumping-off point for Angkor Wat's dazzling temples. The luxurious Belmond La Résidence d'Angkor is at the heart of the action, but cross over the lotus-filled moat and you'll swap the city hubbub for swaying palms and vibrant bougainvillea. Traditional materials blend with contemporary design, from the lobby bookended with oversized artwork, to the light, bright suites. Each comes with made- for-sharing bathtubs and rain showers, plus a balcony or terrace with a double day bed.
BELMOND LA RÉSIDENCE D'ANGKOR SIEM REAP, CAMBODIA 8 HOURS CAMBODIA'S MOST COSMOPOLITAN CITY Photo Gallery
A stone lion stands guard over the jade-green pool, flanked by lush tropical vegetation and parasol-shaded loungers. It's just a hop, skip and a tuk-tuk to the temples, but try the hotel's complimentary activities, too, from arts and crafts tours to a blessing from Buddhist monks. The poolside Ember is the place for all-day light bites, while indoor-outdoor Circle showcases the best of Khmer cuisine at the lavish breakfast and dinner buffets. Get pampered at the sleek Kong Kea Spa, then chill by the plunge pool overlooking the bamboo garden. And finally, end each day with a nightcap at the seductively lit Martini Lounge.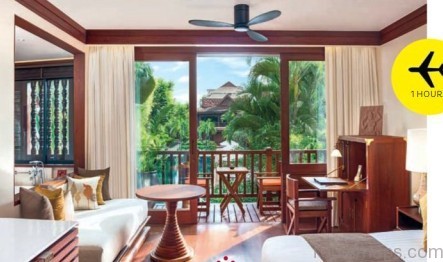 OUR KIND OF LUXE
The Mystery Dine Around tour is a gourmet adventure by tuk-tuk to four speciality restaurants GO The Ultimate Travel Company (theultimatetravelcompany.co.uk) offers a seven-night stay at Belmond La Résidence d'Angkor from £1,395 per person, including flights and private transfers.
Maybe You Like Them Too