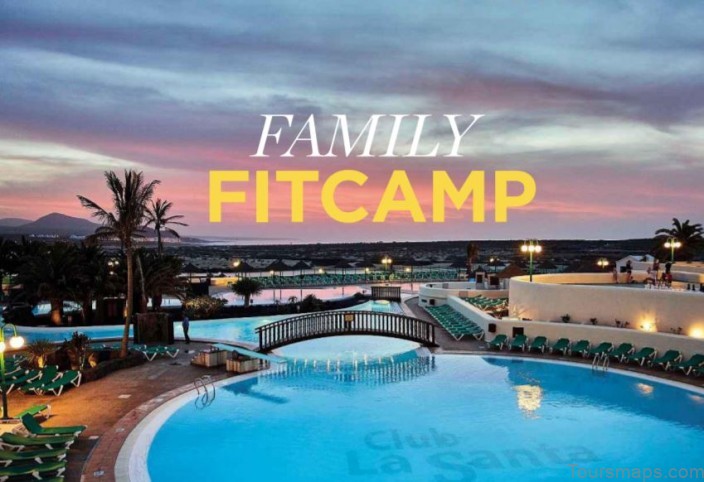 I've been on fitness holidays before but, since becoming a mum, I've found it increasingly difficult to eke out time for my own sporty interests. Where I used to have ample time to exercise day, night and all weekend long, should I fancy it, a frantic 20-minute jog squeezed between nursery runs is what constitutes an exercise luxury these days. Enter the opportunity to head to Club La Santa (aka sports heaven) in Lanzarote, with the little one and granny in tow, and it took me all of 10 seconds to say 'I'm there!'. Already incredibly popular with fitness fanatics, Club La Santa is the place to go if you want to partake in a week or more of back-to-back workouts. I've got active friends who enjoy the resort with those in their sports club, year after year, doing a week of intense training to fast-forward their fitness – I just didn't know that little ones were welcome, too. But with zero time difference to set your kid's body clock out of whack, and a short-haul flight that will make flying with youngsters bearable, Club la Santa is an obvious choice for active families.
Club La Santa Tinajo Spain Best Hotel in Spain Photo Gallery
EXERCISE ON TAP
After a blissful flight, during which my one-year-old daughter slept like an angel (an unusual occurrence), we arrived at Lanzarote Arrecife airport to gorgeous sunshine. Good weather is, after all, pretty much guaranteed on the island. We met with one of the resort's 'green team representatives' (who also leads Kid's and Fitness sessions) to get a 25-minute coach transfer. No time to waste! I used the minutes on the coach to download the Club La Santa app and start checking in for any – and every – activity I fancied doing that week. Known to many as the 'Disneyland for sports lovers', Club La Santa has every activity imaginable on offer. If you love running, there's a track and daily instructorled sessions to boost your prowess. More of a cycling fan? Try hiring one of 300 Cannondale bikes – whether a road, mountain, city, fat or electric cycle – and head along quiet roads to a nearby town. For swimmers, there are four Olympicsized pools,and there's also kayaking, windsurfing and stand-up paddle boarding on the private lagoon. Or you could try your hand at padel tennis, aerial yoga or even Olympic weightlifting in the fresh air. At the resort with someone not so sporty? No problem. While you train, your companion can laze by the pool or enjoy treatments at the spa.
FINDING OUR FEET
A key part of this trip is exercise, sure, but, after an early start and late afternoon arrival, we reserved the remainder of the first day for getting to grips with the resort. Why? Because it's a maze of courts, pools, studios and apartments. The staff at reception handed us a map of the area and gave us directions to the Sports Booking block, in which you can hire kit, book onto sessions and pick up handy information about the week's activities. First though, we headed for our two-bed (and, turns out, two-bathroom) apartment on the newer side of the resort. My first surprise – the apartment was incredibly luxurious and yet extremely practical for those with a little one. There was a modern and spacious lounge area, plus a lovely balcony. A room with a ready-made cot, and an open kitchendiner with an Ikea-style highchair. Two bathrooms, for when two adults need to make a quick switch from gym to pool kit between workout sessions, and two bedrooms. With a shop on site, you could cater for yourself, or head to one of three restaurants. After a dip in the kid's pool – complete with a small slide – we headed to the buffet-style Atlantico restaurant, and then hit the sack to get some shut-eye in preparation for an active day ahead.
LET THE SPORT BEGIN
Day two was when we really got to grips with what was on offer. We began with breakfast at Atlantico and then headed out on bikes, plus baby seat, to explore the volcanic isle. Off we pedalled, with lunch from the resort shop in our backpacks, before finding a nearby town and beach to have our picnic. Ah, what a life! Back from biking and it was my turn to enjoy a bit of alone time. There's a Play Time kid's club for the over-threes but not a crȇche for really diddy ones, so granny took the little one to the on-site play area while I took a rare step onto the track for some 400m training. Of course, I could have hired a Thule jogging buggy but this was 'me time'. I started running 800m efforts but it was too hot, so I cut the efforts in half. Known as the windy isle, Lanzarote's breeze is appreciated when working up a sweat, but I'd still recommend reserving the middle of the day for time in the pool! Exhausted, I switched roles (I took my daughter to the kid's pool; granny ran on the track); then we headed to the El Lago restaurant for a very tasty dinner.
PICKING UP PACE
On day three, I'll admit that I over-indulged in activity a bit, so much so that I began with an instructor-led 5K run before breakfast. Bliss! After re-fuelling, it was time for a quick dip in the Olympic pool for a Power Breathe (a snorkel-like device used by experienced swimmers to increase lung capacity) training session that I hoped would improve my triathlon fitness when back home, then my mother headed to the golf area for a beginner's class. The afternoon was just as activity-packed, with stand-up paddle boarding, yoga and yet more time at the kid's pool – somewhere which was fast becoming a favourite place for my daughter. As the hours passed, I found myself wishing that I had more time at the resort. There was so much that I hadn't done – long bike rides, spa sessions and 5K races! The thing I really wanted to try? Triathlon training, which I discovered was available when walking by those doing a bike-run brick session on my trip to the nearby town. There are so many activities to try that, honestly, a week just isn't enough. But give it a couple of years, when my daughter is old enough for the children's club, and I'll be back for a family holiday during which I can work on my fitness while she learns all about dancing, football, tennis, and whatever else she fancies, at this fantastic sporty resort. Until then, I'll dream…
Maybe You Like Them Too