GRECOTEL Corfu, Greece
KNOWING YOU WON'T HAVE TO WORRY ABOUT CHECK OUT
Is important when you stay in this hotel on Corfu's Kommeno peninsula; you're going to want to eat and drink everything. And there are seven places to do exactly that. Our favourite is Yali, on the waterfront, where you can sit on a deck that juts over the sea and gorge yourself silly on prawns, mussels, calamari and your pick of the catch of the day from the Ionian or Mediterranean Sea (dine on salmon that's been marinated in sea water for a salty kick to remember). You can also sip a cocktail in the elegant lobby bar, compete with fellow guests over who can polish of the most free-lowing izz during breakfast in Mon Repos, the Mediterranean bufet restaurant, or take it up a notch in Aristos, the largely seafood ine dining eatery.
GRECOTEL Corfu, Greece Photo Gallery
THe hotel has also unveiled a steak and sushi restaurant to sit alongside its popular poolside grill. Yali turned out to be the venue for our most memorable meal – or rather one of the three private little coves that sit right next to it did. his is where you can have a private dinner, with personalised menus, toes-in-the-sand style, watching the sun set and dozens of paper lanterns twinkling in the moonlight. he romance factor here is reassuringly high and carried through into the pretty orange and pink villas dotted around the coastline, many with a pool and ocean access via a secluded deck. If you're not staying in a villa, then rest assured: the giant main pool is the place to hang out during the day anyway. It's where well-timed snacks and extra bottles of water and suntan lotion seem to appear just when you need them. It's also the best place from which to join daily poolside exercise classes. Too public? Head to the watersports centre and keep the foodie theme going on an inlatable doughnut or banana boat ride.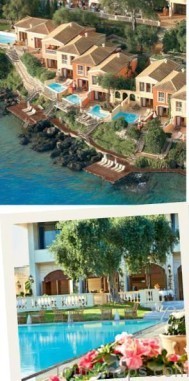 FULL BOARD PERK A
Breakfast that starts with fresh pancakes, then waes, fruit and, go on then, the full fry up. GO Sovereign (sovereign.com) ofers seven nights from £799 per person, full board. Includes transfers, and return easyJet ights. For details about Greece, go to visitgreece.gr. For car hire, visit lordtravel.gr.
Maybe You Like Them Too