Placerita Falls is a 25-foot seasonal waterfall tucked into a cool, rock¬enclosed grotto in Placerita Canyon State Park. (The falls is generally active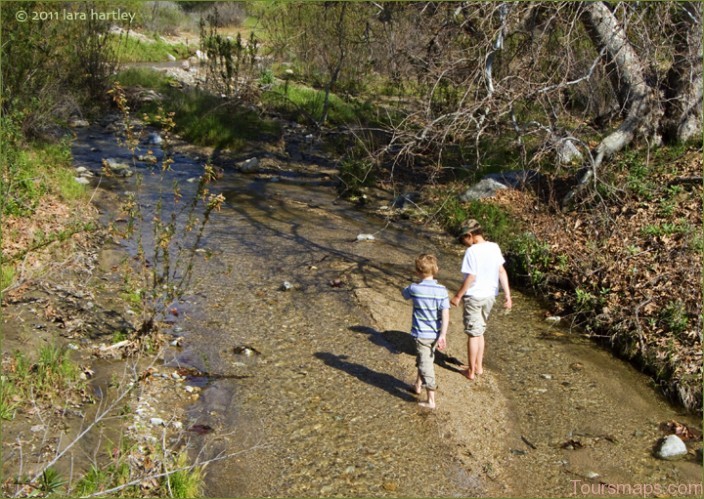 between January and May.) The easy hike into narrow Los Pinetos Canyon follows Placerita Creek through the shaded gorge under a canopy of live oak, big leaf maple, and big cone spruce trees. An understory of moist ferns surrounds the path. The trail begins at the Walker Ranch Campground by historic remnants of a settler's cottage built in the early 1900s.
Placerita Canyon Nature Center Photo Gallery
The cement foundation and chimney are still intact. En route, the trail meanders along the waterway, crossing the ephemeral creek seven times. The path scrambles over water-polished metamorphic rock to the trail's end in a steep-walled box canyon, where the creek slides over the rock wall.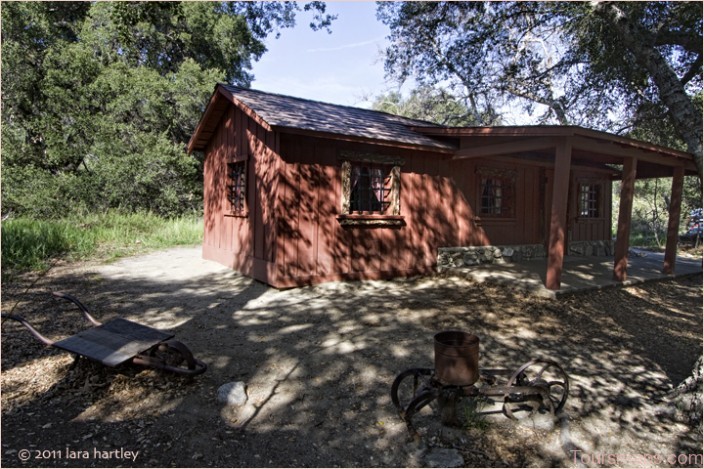 To the trailhead
From the Golden State Freeway (I-5) in Newhall, take the Antelope Valley Freeway (H-14) east. Continue 3 miles and exit on Placerita Canyon Road. Turn right and drive 3.1 miles to the signed Walker Ranch Trailhead parking area on the right. An Adventure Pass is required for parking.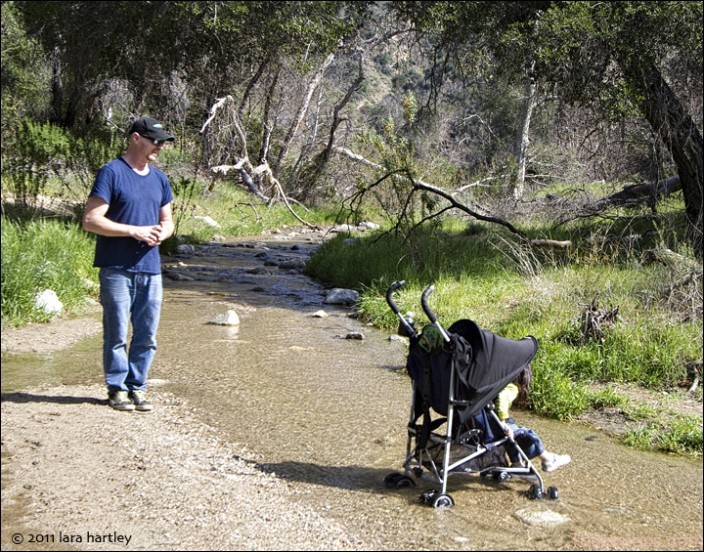 The hike
Pass through the vehicle gate and walk down the dirt road. Descend and cross the seasonal stream into the Walker Ranch Campground to the Placerita Canyon Trail (Hike 1). Veer right a few yards to the Placerita Waterfall Trail on the left. Pass a small rock wall and head up the oak-dotted canyon on the west side of the transient creek. The Los Pinetos Trail (Hike 3) can be seen perched on the west canyon wall. Climb steps and traverse the oak-covered hillside just above the canyon floor. The canyon narrows and follows the edge of the seasonal stream to a rock grotto and pool. Curve left and cross the stream for the first of seven crossings. At the fifth crossing, the canyon bends left. The trail ends in a box canyon with vertical rock walls. The vernal falls drops down the face of the cliff.
Placerita Canyon Nature Center Map
Maybe You Like Them Too